West Nodaway will host a four-day week-long community forum | News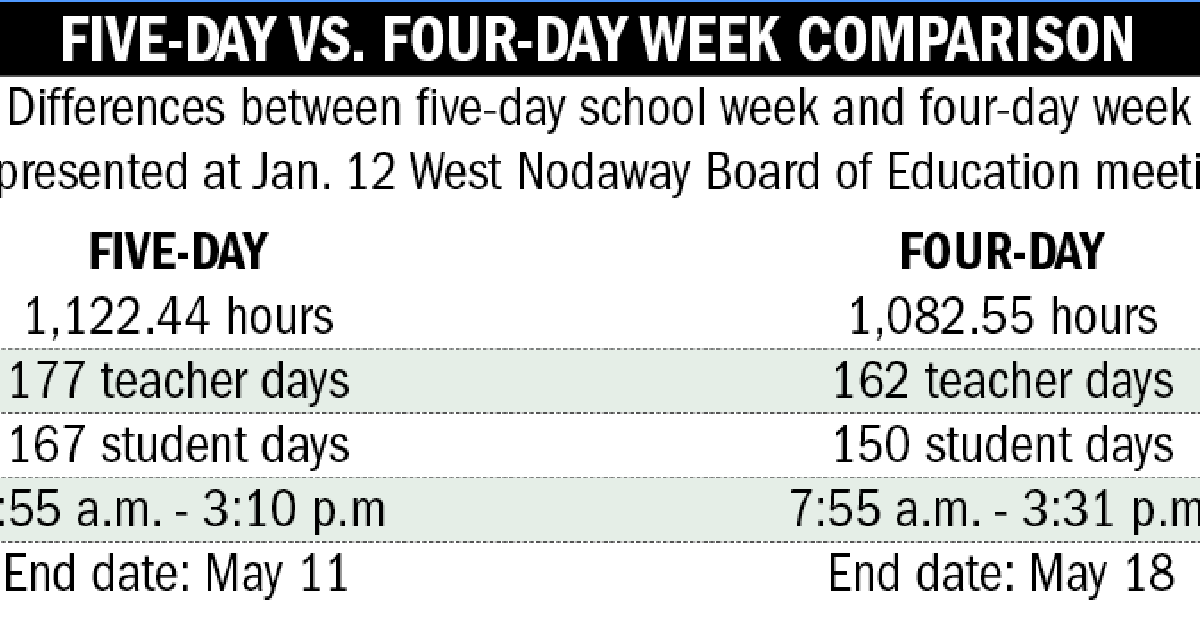 BURLINGTON JCT., Mo. — The West Nodaway RI Board of Education plans to host a community forum soon about the possibility of moving to a four-day school week as early as next year.
The community forum is set for Wednesday, January 26 at 6 p.m. in the media center.
At its monthly meeting last week, the board discussed an outline of what a four-day week might look like and the potential challenges that might come with it. After conducting a community survey that saw around 40% of respondents say they were in favor of moving to a four-day week, board members agreed that the next step would be to move forward with a community forum to get more focused feedback and provide information. .
Superintendent Mitch Barnes said the survey of parents, staff and students showed around 40 per cent in favor of a four-day school week and around 30 per cent against, with around 30 per cent saying they needed more information – a position most council members said they were on their own, although they were generally in favor of the four-day week.
At the January 12 meeting, Barnes presented the first reading of two potential school calendars: one with a five-day school week and another with a four-day school week. In both versions, the school year would begin on the earliest date allowed by state law – August 22. Under the regular five-day plan, the school year would consist of approximately 1,122 hours, 167 student days and 177 teacher days, ending May 11.
Under the four-day schedule – using Monday as the day off – the school year would be around 1,083 hours, 150 student days and 162 teacher days, ending a week later on May 18. Each school day would be extended by 21 minutes, added at the end of the day: the start time, 7:55 a.m., would remain the same, but the school day would end at 3:31 p.m. instead of 3:10 p.m. Barnes said the model shown at the meeting also cut the lunch period by five minutes, adding a total of 26 minutes of instruction time to each day.
In recent years, the four-day school week model has spread rapidly across the state, driven primarily by small rural districts. According to the Missouri Department of Elementary and Secondary Education, only one district in the state used a four-day week 10 years ago. Now, Barnes said 118 of the state's 518 public school districts use a four-day week, and the model has proven popular.
Because the model is so new and has gained momentum during and in part due to a global pandemic, the exact effects – positive or negative – of a four-day school week are difficult to analyze compared to a typical five-day week. Some districts that have made the switch have claimed financial savings through slightly lower utility bills and other marginal cost savings, but any real savings seem more likely to be negligible.
Instead, the primary benefit sought by districts moving to a four-day week is attracting and retaining quality teachers.
During what state education officials called a teacher shortage crisis even before a pandemic put even more pressure on the profession, rural districts in particular have looked for ways to try to make themselves more attractive as destinations for teachers, rather than stepping stones. In Nodaway-Holt, West Nodaway's athletic co-op partner that is separately considering moving to a four-day school week, a committee of teachers came up with the idea during a discussion about ways the district could provide more incentives for teachers.
In West Nodaway, where the district's financial struggles have been a focus for the past year, a four-day school week would give teachers the benefit of fewer workdays for the same pay. In the rough plan presented last week, one of the Mondays off days would be used each month for teacher professional development, but the remaining Mondays of each month would be days off – allowing teachers and parents a day weekday practice each week for appointments that might normally take up class time.
While the extra time off is a plus for teachers, it could also mean a pay cut for uncertified staff who are paid by the hour, such as secretaries, paraprofessionals, and janitors. The board briefly discussed this possible consequence, but did not indicate whether it could resolve the problem by increasing the salary in proportion to the time lost or by any other means.
Additionally, the lack of childcare options for young students on Mondays off is a concern that remains unresolved.
Barnes said that while sports practices would still take place on Mondays, the district plans to not have them during what would normally be school hours to ensure that time is truly time off. Board member Amanda Walker suggested that practices be further limited before or after school so that if a family has children involved in different sports, they don't have to shuttle between their children and school twice on Mondays at two very different times. time.
Walker's concern was one of many wrinkles that council members said they would like to hear about parents at the community forum next week.
The board received a proposed contract extension for bus services from Apple Bus Company, but did not immediately take action, instead ordering Barnes to see if he could find other options.
Apple was the only company to submit a bid and is the district's current supplier, but Barnes said the district pays a higher rate than most other school districts in the area.
Additionally, the company didn't make many friends with school districts last year when it exercised clauses in its contracts that required payment for services even when bus routes weren't operating – like when many districts shut down and went to remote learning for significant periods. of time. A typical contract guarantees payment for a minimum number of days, even when the district does not use the buses for that many days.
However, the company rubbed several local superintendents the wrong way when it not only held districts to this provision, but added additional cleaning fees during the pandemic – while raising more than $9.6 million in Federal Paycheck Protection Program funds, records made available through Pro Spectacle publica.
Still, with a nationwide shortage of bus drivers, district officials weren't confident they'd be able to find another option.
Barnes said he and Nodaway-Holt administrators have been approached by parents who would like them to consider starting a wrestling program.
Board members said they would be open to considering it, but some worried about the potential cost.
"I think it's a great idea…but, and that's just my opinion and it probably won't be popular, but right now we're trying to make ends meet and we're having a terribly hard time," said the board. member Dennis Chitwood. "If we start adding programs that aren't educational, I think we'll have a lot of problems. Just my two cents."
The board asked Barnes to look at the potential costs, and then the board members would decide from there if it would be financially feasible.