Vietnam co-chairs ASEAN-Korea joint cooperation committee meeting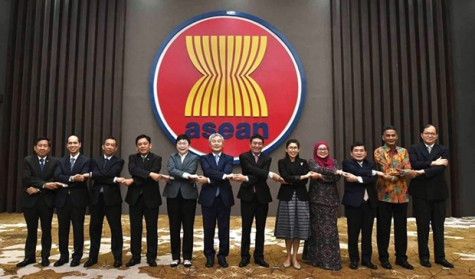 Ambassador Nguyen Hai Bang, Permanent Representative of Vietnam to ASEAN, co-chaired the 9th Meeting of the ASEAN-Korea Joint Cooperation Committee (AKJCC) with the Ambassador of the Republic of Korea (RoK) to ASEAN , Kwon Hee-seog.
Event attendees
At the May 24 meeting, the two sides noted the progress made in ASEAN-RoK cooperation over the past year, including follow-up to the outcomes of the 22nd ASEAN-RoK Summit in October 2021 and update activities. implementation of various areas of cooperation under the ASEAN-RoK Action Plan (2021-2025).
Under the key cooperation mechanism – the ASEAN-Korea Cooperation Fund (AKCF), 20 projects are being implemented with a total investment of $56 million, focusing on five priority areas of education and training, environment, economic recovery, culture and tourism, and health.
In addition, nine projects are pending approval, including large-scale projects such as "Clean Air for Sustainable ASEAN" (CASA) worth USD 11 million.
On this occasion, the South Korean party announced to increase its annual contribution to the fund from 14 million USD to 16 million USD.
The Ambassador of the Republic of Korea reaffirmed his country's commitment to support the central role of ASEAN, the realization of the ASEAN Community Vision 2025, and the implementation of the ASEAN Comprehensive Recovery Framework (ACRF), and to promote cooperation within the framework of the ASEAN Outlook on the Indo-Pacific (AOIP).
Ambassador Bang and other ASEAN officials appreciated the ROK's commitment to close and long-term cooperation, while offering to strengthen cooperation in many areas such as education-training, infrastructure cooperation. and connectivity, bridging the development gap, smart city and sustainable development, climate change and environmental protection.
The two sides also welcomed the upcoming establishment of a series of cooperation mechanisms, including ministerial-level meetings on disaster management, infrastructure and smart city.
In March 2022, the two sides inaugurated the ASEAN-RoK Financial Cooperation Center in Jakarta. They work together to promote the creation of two other centers for cooperation in science, technology and innovation.
The Mission of the Republic of Korea to ASEAN organized the ASEAN-Korea Business Forum on May 19. It will host forums and seminars on transport, digital transformation, maritime connectivity, labor and the treatment of marine litter in 2022./.
ANV