USAG Japan Unveils Housing Ideas and Invites Contributions to Community Forum | Item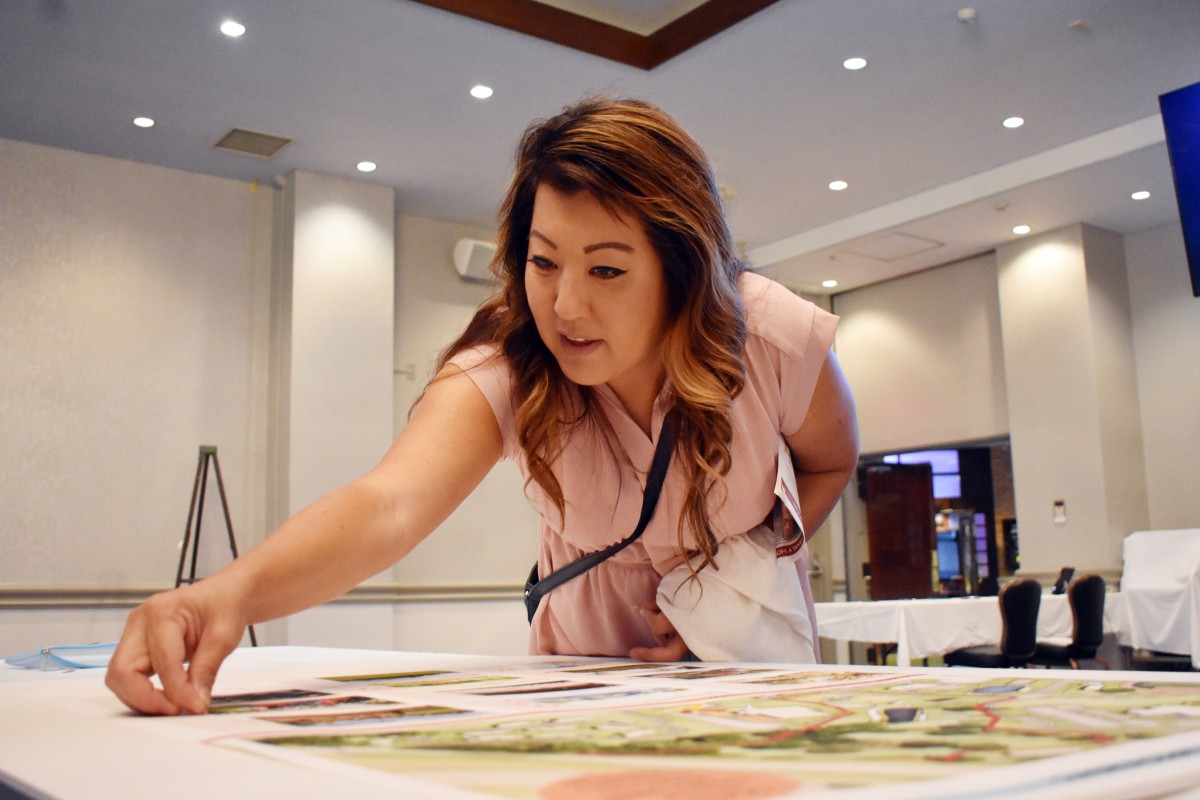 CAMP ZAMA, Japan (September 20, 2019) – Kristi Ramsey lived at Camp Zama as a military wife for over a year, and during that time she developed some ideas on how leaders could best improve the living areas of the facility.
Specifically, she would like to see an improved water park, garden and playgrounds.
Ramsey took the opportunity to express her opinion during the presentation of the U.S. Army Garrison's Future Housing Development Community in Japan at the Community Club on September 18, as she and other members of the community voted on the proposed improvements to Camp Zama, the family housing area of ​​Sagamihara. and Dewey Park.
"It's good to have comments… to vote on some of the projects they are considering," Ramsey said.
Colonel Thomas Matelski, commander of USAG Japan, said community input is an important part of the 20-year master plan for the garrison, which is the ultimate outcome of the planning process that included the meeting, and he hopes to receive even more feedback from residents. in the future.
"We are all one family at Camp Zama and the Sagamihara Family Housing Area, and we owe it to you to provide the best family housing and community space we can offer," said Matelski. "The only way to do it is to talk about it."
The meeting, open to all community members, featured ideas from housing residents, active service members, and civilian staff assigned to USAG Japan that officials received at a workshop on the plan. development from May 13 to 16 and a survey of residents during the summer.
"We will do other things to encourage participation, but I really treasure these comments because it is not only us who can determine what our accommodation looks like," said Matelski. "It all depends on your needs and what you need for your families and loved ones. "
Those who attended the September 18 meeting voted by looking at posters that featured suggested ideas and placing small round stickers next to the five they liked best.
Ideas for improving Dewey Park included a gazebo; A playground ; a space for a rock garden and flowering plants; a volleyball court; a walking and jogging path; a camping ground ; aquatic plants; and a football field.
For residential areas, ideas included Japanese-style architecture; landscaping; forward course; back yard; backyard fencing; front door canopies; connected sidewalks; shared lessons; terraces; backdoor awnings; individual parking spaces; balconies; and adjoining parking.
The Schreifer Group, a company helping garrison officials in the planning process, presented the results of the May workshop and survey at the meeting.
Jill Schreifer, CEO of The Schreifer Group, encouraged residents to get involved.
"We really want to make sure that we hear all of your feedback as residents, and that you tell your friends and neighbors about this process, and that you really provide those feedback that will make Zama a great place in the near future. but also in the long term future, "said Schreifer, who grew up in army accommodation.
While the master plan has a 20-year perspective, the plan includes short-term projects for the next zero to five years; mid-range projects for the next six to ten years; and long-term projects that last 16 years and more, Schreifer said.
Several of the short-term projects could be completed within a year or two, Schreifer said.
Examples of short-term projects included several building renovations, improvements to the historic trail at Camp Zama, and an expanded community garden at SFHA.
Meanwhile, examples of mid-range projects included the demolition and replacement of homes at the Eagles Nest; construction of facilities at Dewey Park; and the construction of a wading pool at the SFHA.
Examples of long-term projects included the construction of a recreational trail at Camp Zama; the reallocation of buildings 373 and 158 for community space at SFHA; and construction of community facilities at SFHA.
Schreifer said a pre-final report will be available on October 18 and will include inputs from the September 18 workshop.
Anyone wanting a copy should contact Peter Heerens, head of the planning branch of the garrison's Public Works Directorate, or Akihiro Saito, a senior planner in the planning branch, Schreifer said.
The comment period will be open for a month and the final plan is expected to be completed before Christmas, Schreifer said.
Heerens said U.S. Army Facilities Management Command facilities such as Camp Zama must update their master plan every five years, and all facilities go through the same process.
Matelski said that while the plan is 20 years and some of the changes will not affect the people who live here now, residents have a responsibility to watch over those who come after them.
"This is your opportunity to influence the way things will be for families who may not be you," said Matelski. "And so it's an important place to provide feedback on the things that you see, that your families see, that your colleagues see in this community and that we can improve."