The Tap Yard returns to Waukesha and adds three new sites, including Schlitz Park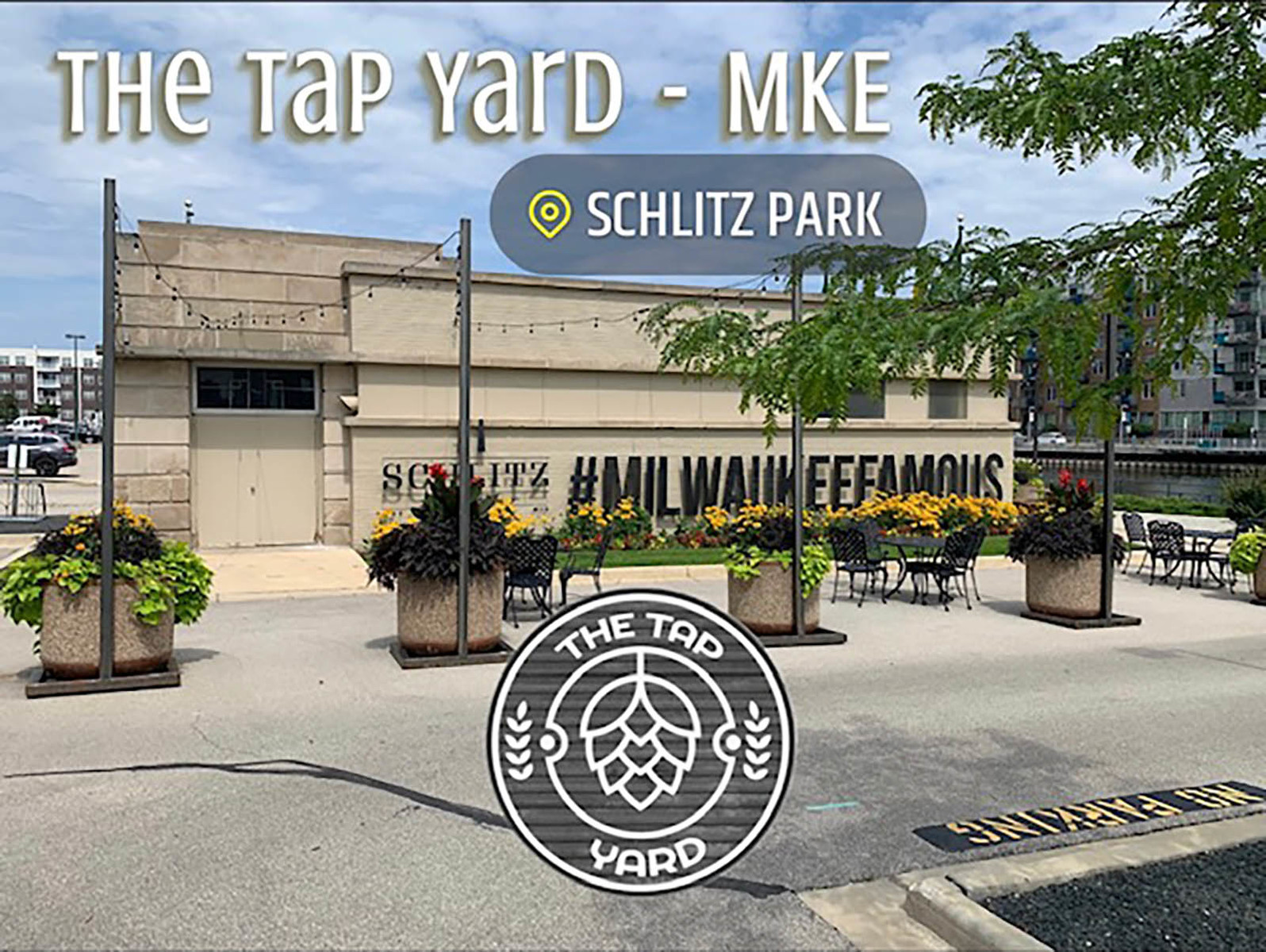 The Tap Yard beer gardens – run by Nick Markin and his team, which includes operations manager Krystal Mulvaney – will return in May, but with a few key changes.
While the popular Waukesha spot will return, the Bayshore spot will not.
But this will be replaced by three new beer gardens: at Ackerman's Grove Park in West Bend, at Fox Brook Park in Brookfield and after two previously stalled attempts in Milwaukee, along the river at Schlitz Park.
While Waukesha and Brookfield will open May 4, Milwaukee will open May 11. West Bend is set to open May 11, but it could also open May 4 if all goes well.
The Milwaukee location is a hard-earned location for Marking, which previously owned The Brass Tap franchise in Greenfield.
"It's a long time coming," he said. A location had been set up just across the river on Edison and Knapp streets, but it never opened. The first attempt at a Milwaukee site was also on the river, but further south across from the Milwaukee Public Market as well. This one never took off either.
"We had everything installed on Edison," says Marking, "ready to go. He was there and ready to open and would have been perfect timing with the Bucks – the parade came through. Admittedly, we were a bit sad that it couldn't open, but unfortunately the use hasn't been adopted (by the city)."
But now, in Schlitz Park, The Tap Yard has an eight-boat dock, plenty of parking, visibility from Water Street, plenty of onboarding partners thanks to office park tenants, and proximity to the Deer District and the Fiserv Forum.
"We are very excited to launch this project," says Marking. "We'll have a container and we'll be right next to the RiverWalk so we're close to Milwaukee Kayak and a lot of different businesses in that park so we're thrilled about that."
Some nearby businesses, including Manpower, have expressed interest in partnering with The Tap Yard for events.
The Bayshore location won't be coming back, Marking says, because a tenant was secured for space nearby and acquired the rights to sell beer at The Yard events.
Ackerman's Grove Park location in West Bend is on Little Cedar Lake, and the Fox Brook Park beer garden will be near the popular beach.
"Ackerman's Grove offers a phenomenal view," says Marking. "Fox Brook Park is truly another phenomenal place. The artificial lake is very, very, great. We'll use a container like we did in Waukesha for the West Bend site, and then we'll build some sort of outdoor bar for the Fox Brook Park site.
"At Fox Brook Park, we're going to be under the overhang of the building there and we're building an outdoor bar set up there."
Marking indicates that while new sites will use containers, not all of them will be the same.
"In fact, they will be kind of unique on their own," he says. "All three will have containers, but different containers. The one in Waukesha has a roof terrace. This is our Cadillac of locations. We have a 40ft container semi-trailer that we have retrofitted. It's a big box and we put a roof terrace there.
West Bend and Milwaukee will have 20ft containers.
All sites are also expected to return next year, as Marking has signed multi-year leases at all four sites.
The beer gardens are all family and dog friendly with big Jenga, bag toss, beer pong, hammerschlagen and other games. And all will have resident food trucks. Plus, a series of themed food truck festivals – tacos, grilled cheese, etc. – will revolve around the different sites.
There will be live music except Brookfield Beer Gardens, as well as weekly Thursday night trivia and special beer-focused events on Wednesdays.
"We have a full summer," says Marking. "Each garden is programmed every day of the week.
"In Waukesha, we have set up a huge farmer's market. We have 40 incredible vendors coming in.
Of course, there will be beer. Twenty-four lines at each location.
"We have a strong focus on the breweries we've always worked with, both at the bar level (at The Brass Tap) and now with the beer garden setup," says Marking. "Eagle Park is a big park. Lakeside, raised grain, central waters, Goliath rollover, maple wood, founders, third space.
"There are so many good ones, but these are the main ones that we have a really good relationship with, and we have the ability to sell their core products and then add some amazing stuff that they sell, from stouts to barley wines through anything."
The marking indicates that beer is really the main focus in The Tap Yard locations.
"We run slightly different beer gardens. We try to focus on exclusive beer and have some really cool stuff that you might not expect to get in a normal beer garden. And so there's a certain interest in what we're doing, and we were known for that at Brass Tap, getting some really cool beers there.
The beer-focused programming on Wednesday will be complemented by a number of themed beer parties on Saturday which, like the food truck events, will revolve around the different locations throughout the season.
"We're starting with Sour Fest, which will be rolling through all four gardens during the month of May on Saturdays," says Marking. "And then we will go to the Fruit Beer Fest, which will take place in all the gardens in June. July is IPA Fest. August is the cider festival. September is Belgian Fest and October is Stout Fest.
"These will all feature exclusive beers."
With twice as many locations as last year and three of them completely new, Marking and his team have their work cut out, it seems.
"It's going to be a busy month," he said.