Pittsfield School Committee Candidates Gather for Community Forum | Local News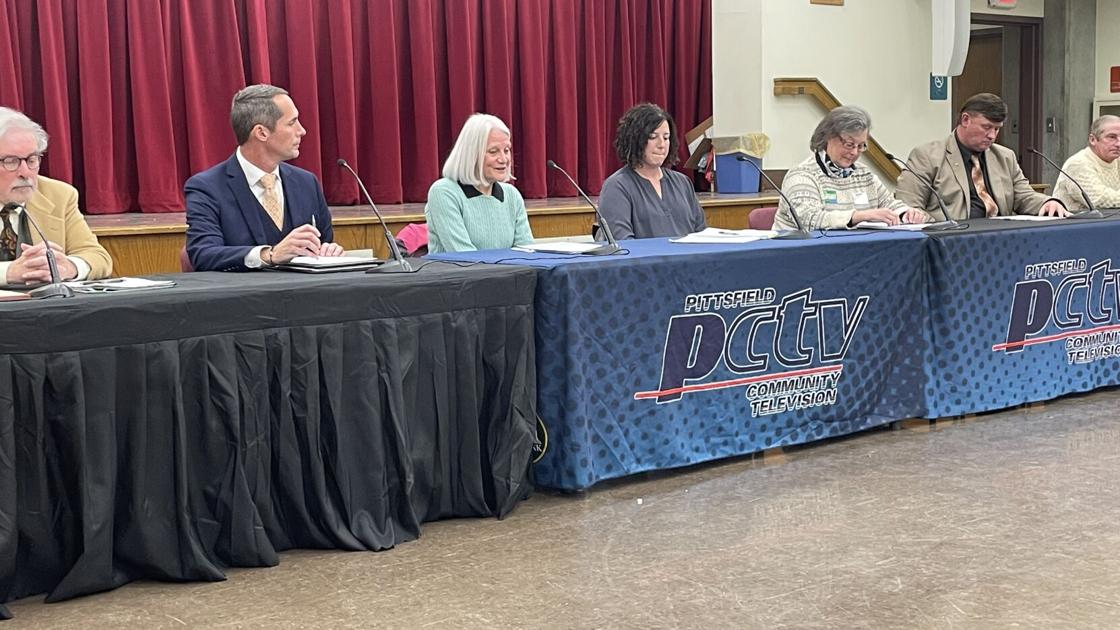 PITTSFIELD – Seven of the eight remaining candidates vying for six seats on the city's school committee participated in a community forum on Monday, nearly two weeks before voters went to the polls.
The evening debate, hosted by iBerkshires.com and Pittsfield Community Television, was held at the Berkshire Athenaeum and brought together four titulars, Mark Brazeau, William Cameron, Daniel Elias and Alison McGee, as well as three of the four challengers: Sara Hathaway, Vicky Smith and Bill Tyer. Karen Reis Kaveney-Murray was unable to attend the debate due to prior engagement, according to PCTV's Bob Heck, who moderated the forum.
The top six voters in the general election on Tuesday, November 2 will each win a two-year term on the school committee.
Although eight are actively campaigning for the position, ten names will appear on the school committee ballot. Two others who submitted bid documents withdrew from the race and are no longer running for candidacy. They are Nyanna Slaughter, a member of the current Pittsfield school committee, who refused to support another candidate, and Kate Lauzon.
Lauzon told The Eagle on Monday that she made the "very difficult" decision to withdraw from the election due to health concerns.
She supported Kaveney-Murray, a parent at Morningside Community School from São Paulo, Brazil, who has provided translation services for the district and works as a customer service representative for the Motor Vehicle Registry.
Candidates exchanged views on Monday on a range of issues facing local schools, taking positions on topics such as teacher and support staff compensation, school construction needs, curricula and school safety. The format was organized so that one question was asked of three candidates, with another question being asked of the next three candidates, so that not every candidate answered every question.
Candidates, however, had time to go back and address questions or topics that were not directly posed to them by the moderator.
Here's what the candidates had to say. Some questions have been edited for clarity.
Question: What specifically needs to be done to improve the condition of three open class schools, Morningside, Conte and Crosby? Or do you think new school buildings should be built instead of renovating existing ones?
William cameron: "I don't believe a decision can be made by the school committee on what to do with these schools, and on district programming on a much larger scale, without substantial community input. is what is needed. We have a school physical plan that was put in place as a result of Proposition 2.5 40 years ago. The population has been reduced by at least half. And so we need the community's opinion on how to use this as an opportunity to improve the neighborhood, not just in terms of replacing one building with another.
Marc Brazeau: "It's a community decision. This is something that will involve everyone in the community who will come together to think about exactly what needs to be done with our school buildings. I said from the start that I supported the modernization of our schools. … It will take the whole community together to determine what we need to do with our school district.
Vicky smith: "I've been to these schools and talked to these teachers and they're so frustrated because they've been asking for upgrades for years. … I just know that all my years as a teacher and principal, where there is a will, there is a way.
Question: Do we have too many school buildings? Do you think that the current number of schools should be consolidated in the next five years?
Alison McGee: "We have the data to show that our student population and class sizes have decreased, the number of enrollments continues to decline. But what I think what we are also seeing is that attentional skills, organizational skills, and learning skills continue to decline as well. So I think… we have to make sure it fits and really meets the needs of the students.
Sara hathaway: "You need the opinion of the community. We need to understand the condition of these buildings. We can't make a decision until we have it.
Daniel Elias: "All options must be considered. In-depth community research and public input. … It's time for some sort of action and game plan for the future, and what that needs to be determined based on the feedback we're going to get from the public.
Question: Would you be in favor of making a complete renovation of Pittsfield High School the top priority for state-sponsored renovations? Or should we wait until the other schools are finished?
Bill Tyer: "Either we have to repair it, we have to sell it, we have to do something with it; we need to come up with a plan, not just for PHS, for all schools. "
Question: Do you think the Superintendent's process was conducted fairly and do you agree with the decision?
Cameron: "There have been accusations of lack of transparency; I don't know where this lack of transparency was. There were allegations that the person who was appointed superintendent had somehow gained an unfair advantage, that "the solution was there". I have no idea what anyone is talking about there. The process worked as it was supposed to.
Brazeau: "I think the process was conducted fairly. [The search committee] introduced us to the three candidates. I did some very extensive research. … I believe I made the right decision … and I am glad that the person I have chosen to be superintendent [Marisa Mendonsa] arrives as deputy superintendent.
Elias: "I think the search for the superintendent was very well done … [Superintendent] Joe curtis [has] 20 years of service in our system, he deserved it, he deserved it. The mistake we make sometimes is to think that the outside candidate has no faults, because we do not know them.
Question: Are we paying our teachers enough to retain them, or are we losing too many energetic and young teachers to neighboring districts who can afford to pay better?
Black-smith: "When I was principal, I didn't think I should earn more than the highest paid teachers … and I worked in a district where the superintendent made a dollar for the year because he had other sources of income … [Teachers perform] very important work for our community; show teachers that we appreciate the hard work they do, but we also want to give them the freedom as professionals to make more independent choices and to feel that they can master their own profession.
Question: The Pittsfield School Employees Federation stood out before the forum for calling for a living wage. Without revealing trading strategies, how do you respond to their demands?
McGee: "What I have learned from the last two years is that our budget figures are complicated, we are in a complicated area. … As a specialized educator, I frequently work with and rely on paraprofessionals. … Having well-trained, passionate and satisfied paraprofessionals is an essential part of being able to learn in any structured classroom. … I think all AFT members are professionals, and if we treat them like professionals and what we expect from them, we have to treat them like professionals in what we give them.
Hathaway: "I was surprised that some hourly rates are so low. … I think you made a great presentation, and I hope the new contract will reflect the great work you do.