Northam administration slams 'dual tax benefit' for businesses in federal relief package | Government and politics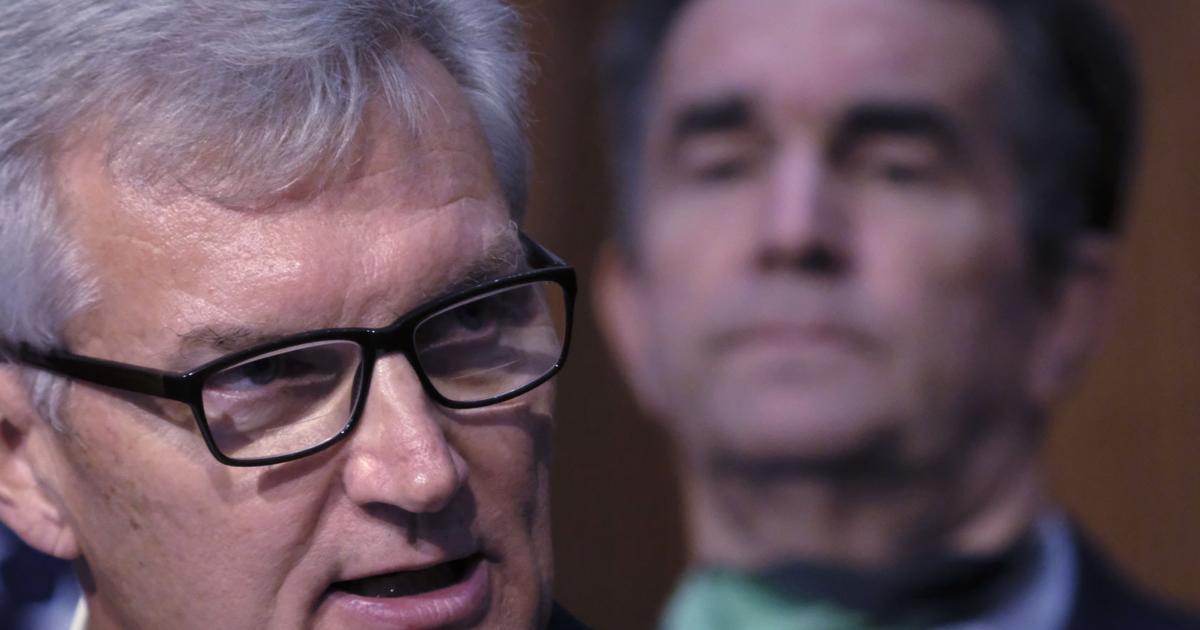 Governor Ralph Northam doesn't want Virginia to approve a new corporate tax benefit in federal emergency relief legislation that could cost the state half a billion dollars or more while providing a 'double benefit' tax" to businesses that received repayable federal loans to maintain their payroll during the COVID-19 crisis.
Finance Secretary Aubrey Layne told the House Appropriations Committee on Friday that the governor wants Virginia to "misalign" its tax code with the provision of the federal emergency relief bill passed by Congress and signed into law by President Donald Trump in late December.
"Not only is it expensive, it's bad tax policy and it's bad public policy," Layne, a certified public accountant, said in an interview this week.
The provision, contained in the Consolidated Appropriations Act, would cost Virginia $500 million over two years if the state brought its tax code into line with the new law, Layne said in a letter Wednesday to heads of the state's financial commissions. General Assembly.
That's a conservative estimate, Layne told the chairs of the House Appropriations, House Finance, and Senate Finance and Appropriations committees.
"Based on preliminary data from the Small Business Administration, the Department [of Taxation] estimates that full compliance … could result in a significant negative general fund impact of up to $900 million," he said.
Layne argues that the tax provision benefits larger businesses that got the loans more than small businesses that did not, but the National Federation of Independent Businesses said it strongly supports compliance of the tax laws of Virginia to the new federal law.
"It's just a way for the state to tax more money and find more money to spend and not give tax breaks to small businesses," said Nicole Riley, executive director of the NFIB in Virginia, in an interview after Layne's House presentation. committee on Friday.
The budget Northam already proposed last month would already refuse to bring state tax laws into line with the trade provisions of the federal CARES Act, a $2.2 trillion relief package passed in late March at the onset of the pandemic. , which would cost Virginia $667 million in state income tax revenues by restoring tax breaks that the Tax Cuts and Jobs Act removed in 2017.
The governor's budget would comply with state and federal tax codes and CARES Act provisions to help individual taxpayers. These provisions would cost the state $41.7 million in income tax revenue in the general fund budget over two years, which is funded by state taxes to support basic government services.
Northam offers a similar approach to the provisions of the Consolidated Appropriations Act, which included both a $900 billion emergency relief package and a $1.4 trillion bill to fund the federal government for another year.
Complying with the new law's provisions for individual taxpayers would cost Virginia nearly $80 million over two years. The governor supports that, including a provision some Democrats oppose that would expand the business expense deduction for meals, which Layne says could help struggling restaurants.
However, Northam opposes Virginia's tax law compliance with provisions of the law that would allow businesses that receive money under the Payroll Protection Program and the Economic Disaster Loan Program deduct expenses that have already been paid for with federal tax-exempt funds.
"You get a tax benefit on something you didn't pay anything for," Layne said in an interview.
He also opposes the tax provision as unfair because it would give a double benefit to businesses, many of them large, that received forgivable loans under the scheme that small businesses and minority-owned businesses do not couldn't get. He said about 40% of businesses in Virginia, or 113,000 out of 250,000, received PPP loans, which were issued on a first-come basis.
"These guys got free money, and they shouldn't have gotten a tax deduction," Layne said.
Riley of the NFIB said many companies she represents took out loans because federal and state governments had essentially shut down their businesses to prevent the spread of COVID-19, but wanted them to keep their employees on their payroll. She said they deserved some type of tax relief to offset their losses during a public health emergency.
"If they allow this at the federal level, why don't we allow it at the state level?" she asked.
Northam also does not want Virginia to comply with a provision of the new law that would continue to use a lower threshold for businesses to deduct medical expenses from income tax.
The Tax Cuts and Jobs Act, signed by Trump in late 2017, lowered the threshold from 10% to 7.5% of adjusted gross income on tax returns, but Virginia did not comply with the provision in 2019.
The new federal law would extend that tax benefit permanently, which Layne said would cost Virginia $14.5 million in revenue in the second year of the budget and double that amount in future years.
House Finance Chair Vivian Watts, D-Fairfax, questioned the state's stance on lowering the medical expense threshold, but she agrees with the Northam administration that the state should not comply with the provision allowing businesses to deduct expenses already covered by tax-free federal loans and grants. .
"Absolutely, we need to move forward and get the twist" on the expense deduction provision for businesses that receive tax-exempt loans, Watts said in an interview Friday.