National Workshop on Sustainable Agriculture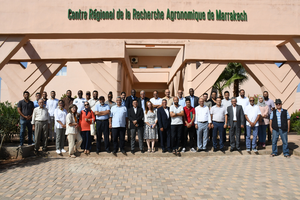 As part of the Sustainable Agriculture Matrix (SAM) Consortium funded by the Belmont Forum and led by the Center for Environmental Science at the University of Maryland, the African Plant Nutrition Institute (APNI) with the National Research Institute Agronomique (INRA) organized a workshop held in Marrakech on September 22, to engage key stakeholders and partners to develop a narrative for the sustainability of olive-based food systems in Morocco.
The Sustainable Agriculture Matrix (SAM) is a framework recently developed by the Center for Environmental Science at the University of Maryland, USA, to measure the sustainability of agriculture and contribute to responsible and transparent monitoring of the SDGs . The SAM framework has 18 measurable indicators, based on three pillars of sustainability: economic, environmental and social. SAM aims to serve as a platform to initiate conversations between stakeholders involved in agriculture and to forge positive changes towards sustainability while avoiding unintended consequences.
To evaluate and further develop the SAM framework in socio-economic and environmental contexts, a group of multidisciplinary teams from six regions around the world came together to form the SAM Consortium. APNI is part of the SAM consortium and supports the evaluation of the SAM framework in Kenya, Ghana and Morocco.
In partnership with the National Institute of Agronomic Research (INRA), APNI strives to engage key stakeholders to identify critical sustainability indicators relevant to olive cultivation systems in the Moroccan context and to suggest those missing in the current SAM framework.
The workshop brought together several representatives of the public and private sectors in Morocco, including the Chamber of Agriculture, OCP Group, ONCA, ORMVAO, DPA, OPM, ONSSA, Maroc Foodex, SONACOS , Lesieur Crisal, as well as universities, farmers, NGOs, and the associations that represent them.
Stakeholder engagement is conducted in a hybrid manner, first via a questionnaire that was sent out to gather information on current experience in various agricultural sustainability issues and how institutions or organizations approach agriculture sustainable. This survey was followed by today's one-day face-to-face workshop which covered:
Descriptions of SAM indicators, historical performance and trends
Trade-offs and synergies
Next steps
This workshop follows previous workshops held in Ghana for Cacao Systems and in Kenya for Maize Systems.
###
About APNI
The African Institute of Plant Nutrition (APNI), created in 2019, is a non-profit research and development organization headquartered in Benguerir, Morocco. APN's mission is to improve plant nutrition for a resilient and food secure Africa. APNI develops fundamental and applied knowledge, know-how and methodologies. By working closely with strategic partners across Africa, APNI ensures that these advances are adapted to specific local conditions and cultures, and then adopted by farmers. A common goal for APNI's initiatives is to build the capacity of farming families to protect them against internal and external market shocks, generate better incomes and improve food security and nutrition. Plant nutrition research remains at the heart of private and public sector investment in African farmers. APNI field offices are located in Settat, Morocco; Nairobi, Kenya; and Yamoussoukro, Ivory Coast. Safer www.apni.net
---
Disclaimer: AAAS and EurekAlert! are not responsible for the accuracy of press releases posted on EurekAlert! by contributing institutions or for the use of any information through the EurekAlert system.