Kincardine celebrates Black History Month with a workshop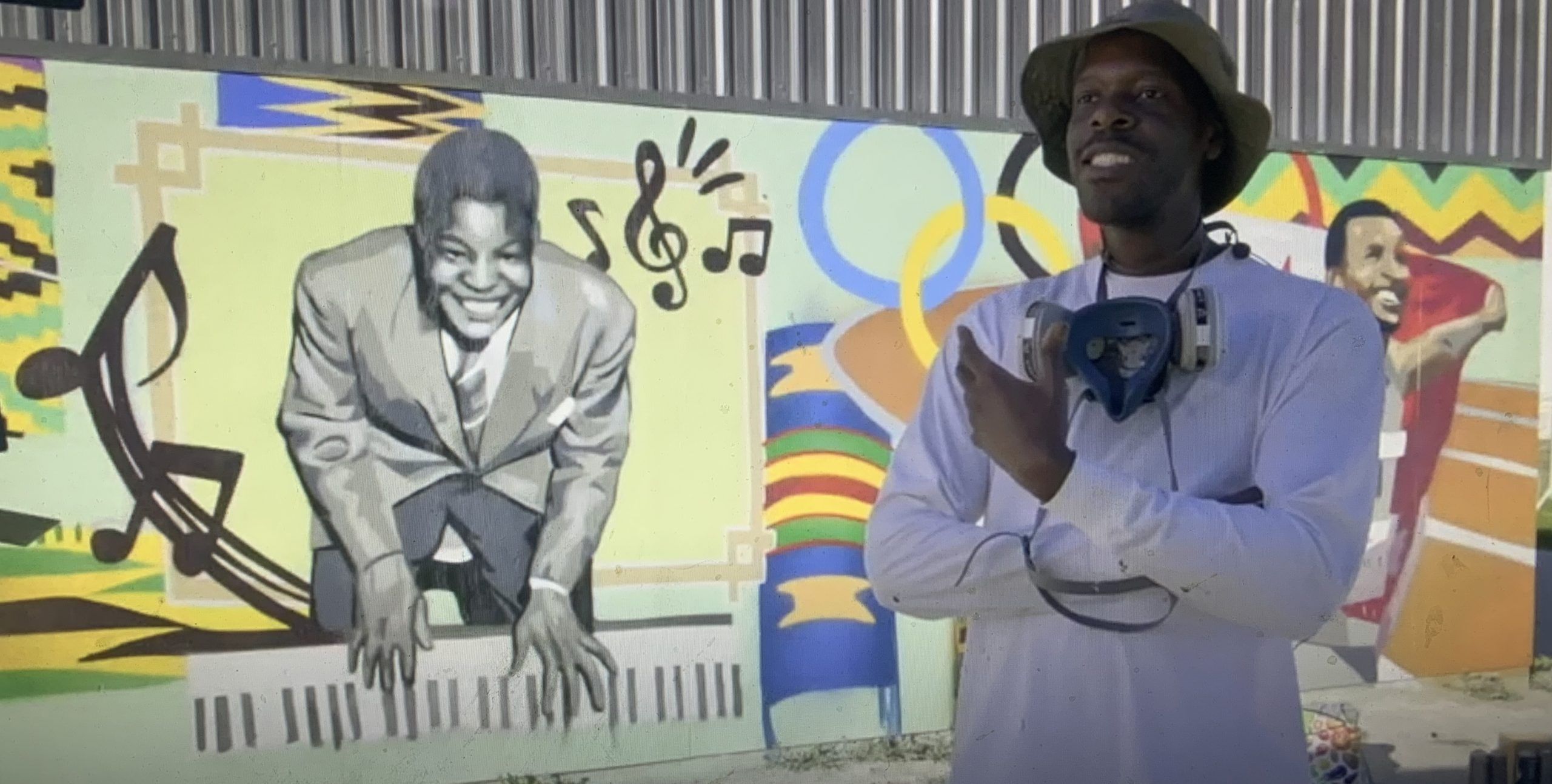 Content of the article
Each February, Canadians are invited to participate in Black History Month festivities and events that honor the heritage of Black Canadians and their communities. The theme for Black History Month this year is February and Forever: Celebrating Black History Today and Every Day.
Content of the article
The Town of Kincardine celebrated Black History Month on February 24 by hosting a workshop in partnership with Bruce County. The event recognized the creation of the Afro-centric mural at the Davidson Center which celebrates the history and contributions of members of the black community.
The evening included a virtual ceremony to inaugurate the mural by broadcasting the accelerated video of its creation: https://youtu.be/yvCwpRb_Ui0.
At the event, Mayor Glover paid tribute to local community members Jenny Hunter and Meag Durkin and thanked them for their leadership in bringing this mural to fruition. Mayor Glover also paid tribute to the artist of the mural, Phillip Saunders, for his contribution of magnificent art to this community.
To explain why representation matters, the event also included a panel of three black leaders who discussed their history and the importance of seeing themselves reflected in art, textbooks, media, literature, story, photos, etc. Speakers for the evening included:
• Dr. Eugenia Duodu, CEO of the Visions of Science for Learning Network, committed to empowering low-income communities through the STEM program, and featured on the mural
• Phillip Saunders, the talented artist who created the mural
• Parul Pandya, founder of Community Impact Consulting and leader passionate about ethics and social justice
• Jennifer Hunter, local musician, educator and community activist
The Municipality of Kincardine strives to develop a community where all residents and visitors feel accepted, connected, barrier-free and have a true sense of belonging. To advance this work, an Inclusion, Diversity, Equity and Access (IDEA) Strategy is being developed by the Municipality of Kincardine. To learn more, visit: www.kincardine.ca/IDEA.
Content of the article
Professional Artist Creates Mural to Celebrate Black Canadian Heritage
On Tuesday, September 28 and Wednesday, September 29, professional artist and muralist Phillip Saunders has been hard at work creating a dynamic and colorful mural that celebrates the legacy, history and ongoing contributions of Black Canadians. He was assisted by Moises Frank.
The public was invited to bring a lunch, listen to music and see his art in action.
"A little over a year ago, I started thinking about ways for our community to actively show acceptance, support and solidarity with people of color," Jenny Hunter said. "In late summer 2020, I gave a presentation to our local BIA and Chamber of Commerce in which I shared personal experiences as well as experiences of friends who have experienced racism within of our community. It was there that I met my friend and partner on the project, Meag Durkin.
Hunter shared a quote; "An anti-racist person is defined as a person who supports anti-racist policies through their actions or expresses anti-racist ideas – Ibrim X. Kendi, 'How to be an anti-racist.'"
"I was very intrigued and inspired by the idea of ​​using a public art installation as a way to educate, to bring our community together, to welcome others into our community, and to inspire and encourage new people. 'other art installations,' she continued.
This project was funded by the Community Economic Development Committee in the spring of 2020.
"Diversity is about creating creative spaces within our community, not just for Scottish festivals, Scottish bagpipes, seascape murals, Scottish settlers and butterflies, but it's about creating spaces for rainbow crosswalks, indigenous markets, multicultural fairs, pride parades and Afrocentric murals," concluded Hunter.
Phillip Saunders is a multidisciplinary artist based in Toronto. His practice includes oil painting, charcoal, graphite drawings and street art murals.
Her art uses the human face as a way to communicate, connect and connect with her audience. It uses colors and abstract patterns to connect more with the emotions of the viewer. the aim of his work is to instill a positive mood, in order to remind the viewer of the beauty of his own humanity. Phillip's larger-than-life portrait murals seem to come alive as they are intricately painted using spray paint and possess a mosaic-like aesthetic appeal.