Kid Reporter workshop organized by UTM TESL students in Sekolah Kebangsaan Kampong Sawah boosted 49 students' confidence in using English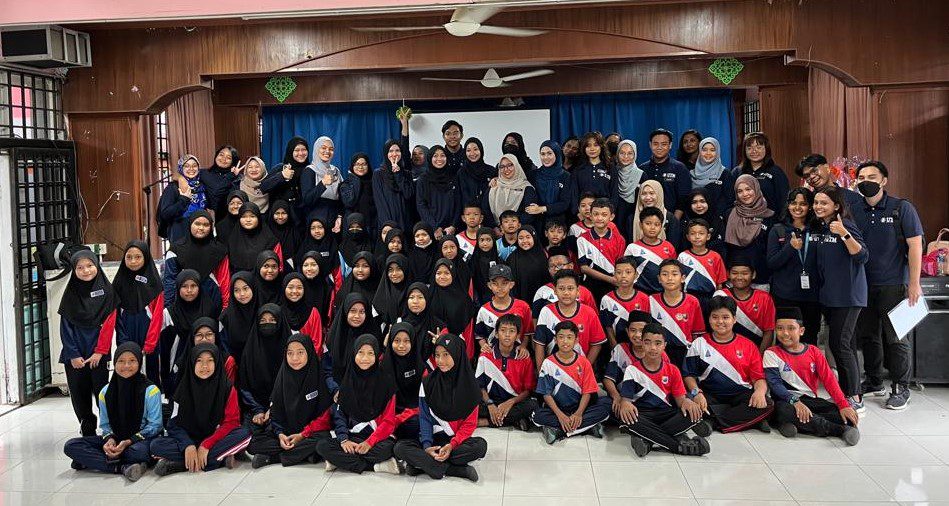 In an effort to build students' confidence in using English and create a non-threatening environment for them to use the language, a workshop for students of Sekolah Kebangsaan Kampong Sawah, Pekan Nanas was run on 12 November 2022.
The workshop was conducted from 9:00 a.m. to 5:00 p.m. by the students of Universiti Teknologi Malaysia (UTM) Teaching English as a Second Language (TESL) to Students in collaboration with the Academy of Languages ​​under the supervision of Mr. Ghazali Bunari and the Deputy President of the Academy of Languages, Dr Aïn Balqis.
After the opening ceremony with a total of 49 participants aged between 10 and 12, an icebreaker session was organized to divide them into groups while getting to know the facilitators.
The participants were divided into 4 groups and were then divided into 4 different classes which were guided by 7 to 8 UTM TESL students respectively. The script writing session, where participants learned how to write a script for their video, was implemented and continued with a rehearsal session for them to prepare their physical and mental skills to shoot their content video. They were exposed to screenwriting skills and rehearsed like a journalist.
After that, participants were given information on how to shoot their video using a camera. After that, from the videos they shot, an editing session was conducted to nurture their talent in editing skills with their own style and the idea of ​​a journalist.
Along with the video they created and edited in previous sessions, attendees had the chance to view and judge their peers' videos while choosing the best one during the screening session. The brainstorming session was the last activity organized so that participants could share their thoughts and feedback on the whole program.
An awards ceremony was held to hand out awards to the participants, including Best Children's Reporter Award, Most Creative Award, Superworker Award, Awesome Attitude Award, and Friendship Award. Prizes were awarded to participants based on their achievements in the organized activities.
It can be concluded that this program has been successfully executed, judging by the objectives achieved. Participants expressed positive feedback, with most mentioning that they would like to become reporters in the future. It was a great opportunity for the students of Sekolah Kebangsaan Kampong Sawah to deepen their knowledge and build their self-esteem.
"This workshop helps me to be more confident," said 11-year-old participant Fatin Widya.