Hartarto talks about accelerating the energy transition at the WEF workshop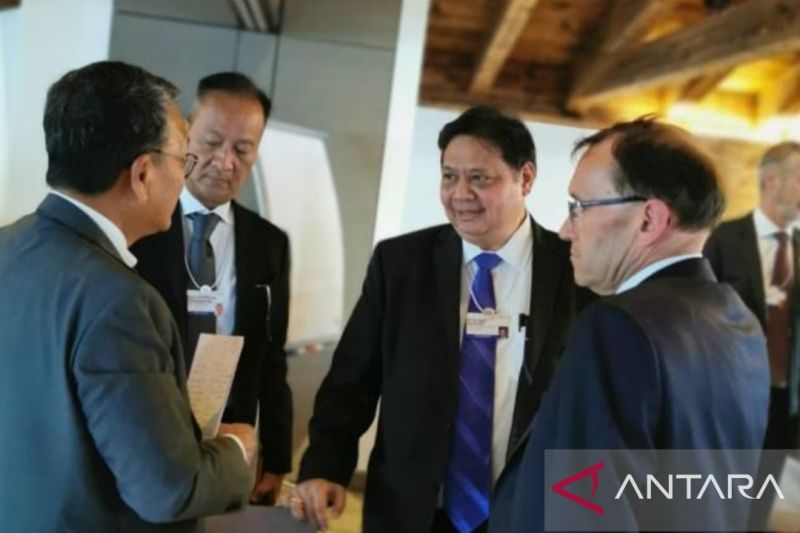 Davos (ANTARA) – The Coordinating Minister for Economic Affairs, Airlangga Hartarto, highlighted the acceleration of the energy transition in emerging and developing economies during his intervention as a panelist during the workshop of the World Economic Forum (WEF ).
He also highlighted Indonesia's commitment to a just and affordable energy transition, the importance of investing in the energy transition sector, and the need for energy transition regulations.
The workshop, held in Davos, Switzerland, on Monday, discussed the energy transition mechanism and highlighted the need for collaboration among multiple parties, including governments, the private sector and the global community.
Speakers and workshop participants included delegates from several countries, multinational corporations, multilateral development banks, energy sector investors and the International Energy Agency (IEA).
Panelists included the Chairman and CEO of ReNew Power, the Chief Sustainability Officer of HSBC Group and the Executive Director of the International Energy Agency. Meanwhile, Bezos Earth Fund President and CEO Andrew Steer moderated the discussion.
Several topics were discussed during the roundtable, including the collaboration and business models needed to quickly move from commitment to concrete actions that support the energy transition.
Topics also covered the development of a financing mechanism that has the potential to open up and increase future investments to support renewable energy and decarbonization technologies, ensuring that green finance is connected to needs. on the ground and best practices in developed countries.
Delegates also discussed how developing countries and emerging economies can take advantage of opportunities for the necessary transition from coal to renewables, steps to create a renewable energy zone and actions that need to be taken. to ensure access to clean energy for millions of people. people lacking in energy and to achieve the targets of the SDGs.
Related news: B20 pushes public-private cooperation on energy transition
Related News: Indonesia to Focus on Equitable Energy Access in Archipelago Countries
Related News: Indonesia will not export new and renewable energy: minister