DOE Announces Semiconductor Lighting Workshop Student Poster Contest Winners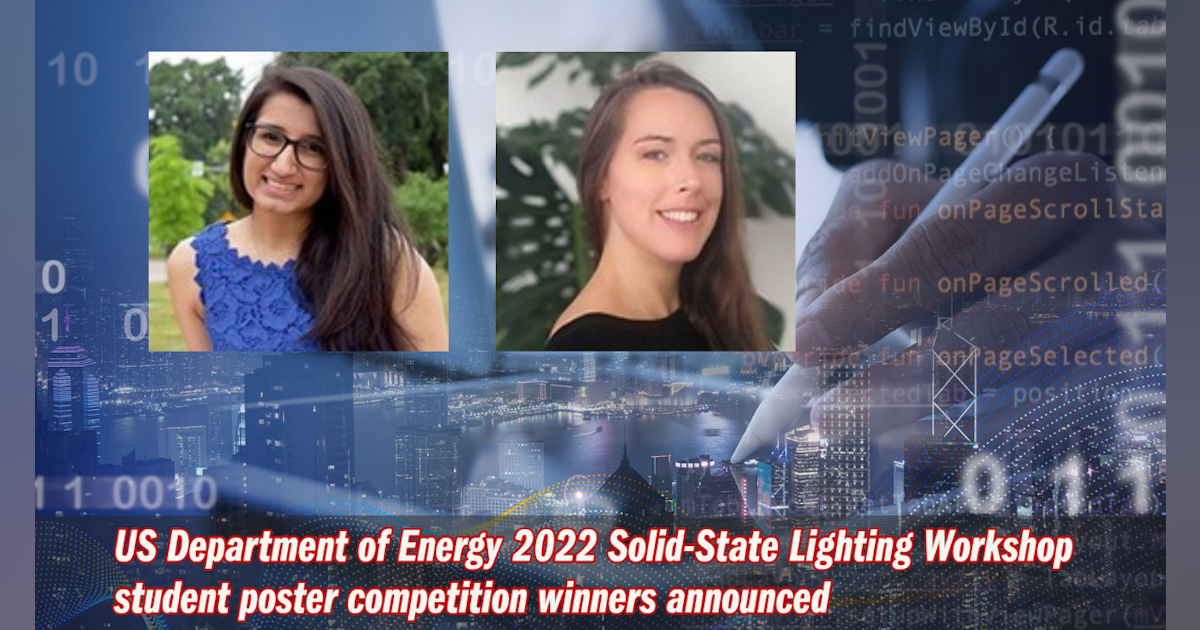 The US Department of Energy's Office of Energy Efficiency and Renewable Energy (EERE) has announced the winners of the 2022 Solid State Lighting Workshop Student Poster Competition. Congratulations to the 2022 winners.
GRAND PRIZE WINNERS
Shruti Hariyani, University of Houston: Advancing Human-Centered Lighting
Hannah Moon, University of Hawai'i at Mānoa: Using Electroretinograms to Characterize the Retinal Response of Endangered Hawaiian Seabirds to Different Light Spectra
HONORABLE MENTIONS
Sangjun Jeong, Texas A&M University: Far red light and temperature interactively affect plant morphology, yield and light use efficiency in indoor lettuce and basil production
Chen Mo, Pennsylvania State University: Sidewall Passivation for Micro-LEDs
Akila Udage, Rensselaer Polytechnic Institute: Performance Assessment of 3D Printed Antennas for Lighting Fixtures
The winning students will be recognized at the 19th Annual Semiconductor Lighting Workshop from January 31 to February 3, 2022, where they will present their research in the virtual poster forum alongside more than 50 top scientists sharing insights. updates on their research projects funded by the EERE.
Now in its seventh year, the student poster competition has attracted submissions from graduate students from across the country. Submissions were judged on the quality of research, novelty and innovation; impact on the field of solid-state lighting; and the quality and clarity of the presentation.
Learn more about the 2022 Solid State Lighting Virtual Workshop: https://www.energy.gov/eere/ssl/2022-solid-state-lighting-workshop.
Contact:
US Department of Energy Office of Energy Efficiency and Renewable Energy
Office of Building Technologies
E-mail:
Visit the contacts page of the EERE website
Website:
www.energy.gov