Community Forum Tackles Critical Race Theory | Education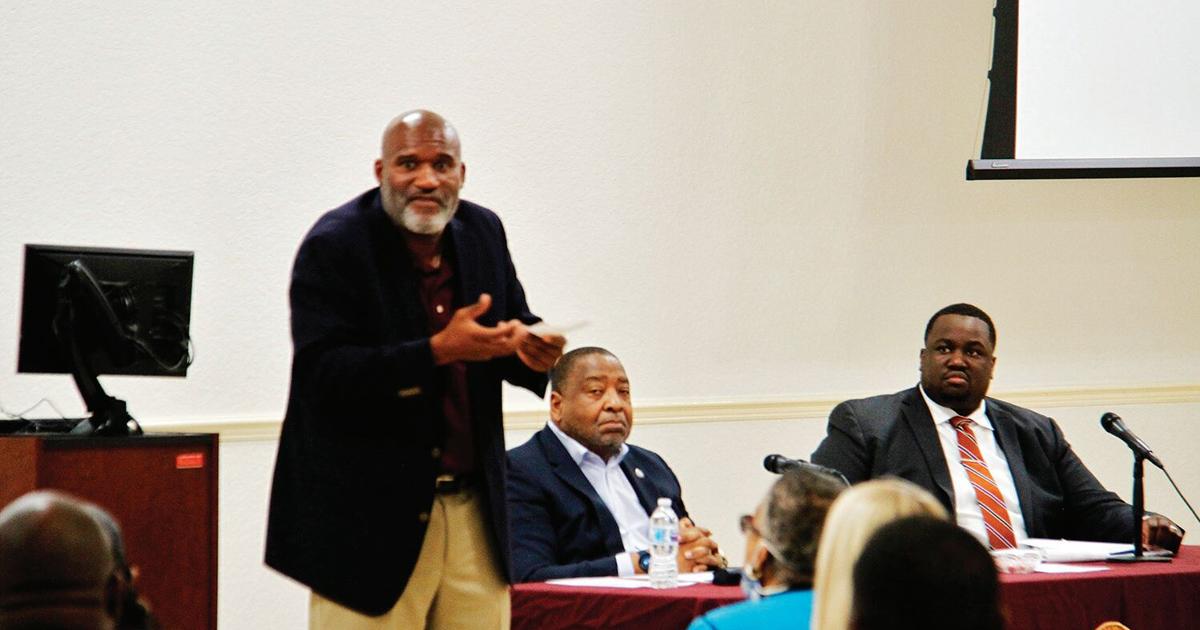 Professors and a retired judge weigh in on a controversial topic at an event at B-CU.
Critical Race Theory (CRT) originated as a theory that examines history and attempts to explain why laws prohibited African Americans from succeeding in the justice system, housing, education, work, health care, the right to vote, etc.
The Florida Legislature has on the table Senate Bill 7 (HB7) and Bill 148 (SB148) which would prohibit training or a program that a person may say would feel uncomfortable, anxious or desperate.
Critical race theory — an academic framework that examines how policies and laws support systemic racism — has led to major debates across the country.
According to researchers studying the subject, CRT explores the ways in which a history of inequality and racism in the United States has continued to impact American society.
On February 28, the Volusia County African-American Leadership Council in partnership with the Daytona Beach/Volusia County NAACP and the Bethune-Cookman University Center for Law and Social Justice hosted a community forum titled "Critical Race Theory: What it Is!" What It Is Not" at Bethune-Cookman University.
There were two videos on CRT, a panel discussion and a Q&A session.
Dr. Randy Nelson, B-CU University Director of the Center for Law and Social Justice, served as moderator.
"It's a matter of education. Now is not the time to play politics. We can all agree that we deserve a safe and productive environment in which to raise a family," Nelson emphasized.
Dr. Daniel Holler, chair of B-CU's psychology department, and Dr. Kideste Yusaf of the university's Center for Law and Social Justice served on the panel.
Also on the panel were retired judge and lawyer Hubert Grimes and Genesis Robinson, director of the Equal Ground Political Action Fund and political strategist.
"The CRT is an intellectual framework used to examine racism in our institutions. It includes the voices of a group of people who have often been ignored," Yousef said.
"The CRT is an access and assessment tool like other tools. We can't solve race problems if we don't understand their history. CRT explains this story.
Grimes added, "CRT is an academic concept over 40 years old. He says race is a social construct and something enshrined in legal systems and policies like redlining, voting rights, the war on drugs, incarceration, police brutality and more.
The event was well attended by various elements of the community.
Listen and learn
Larry Mack told the Daytona Times, "I came to listen. I learned that critical race theory is not taught in schools, that bills restricting it are about to be passed, and that the mainstream media does not research it critically.
B-CU student Ashanti Davis said, "I wanted to know more about it. I also wanted to see how it related to me as a student and African American.
"We don't often admit that we're held back because of racism, but we always maintain and move forward. We're still doctors, lawyers, entrepreneurs and more," Davis added.
Local academics were also present.
"I went out with my colleagues at Stetson University. I have worked with Daisy Grimes in the past. We wanted to come support and learn," Taylor Hibel said. Daisy Grimes was one of the forum organizers.
"We talked about this subject in class. It is interesting to hear from experts on the subject and how these issues impact us locally and nationally," Hibel added.
History and ededucation
CRT's place in African-American, American, and world history was discussed.
Judge Grimes noted, "CRT seeks to analyze the laws of our country and examine how throughout history they have prohibited black success."
"Can we erase history or learn from it? Banning these academic discussions on topics of racism and social injustice will do us more harm in the long run," he added.
Critical race theory has also been discussed in terms of education.
"Understanding this is important. If we don't understand the story and where these ideas come from, we look at people the wrong way. It is important to address these issues. If we don't; they will carry on," Hollar said.
Yusef added, "I have kids at school. I have taught at different educational levels. CRT is not taught in schools and never has been, but it is an academic theory at the university level. As an educator, I want students to think critically.
On government bills
In addition, bills being considered by the state legislature were discussed.
"If these laws are passed, they will prohibit teaching anything that makes someone feel uncomfortable, anxious or guilty. As a person of color who has been through some of these things, my experience is more than someone's discomfort," Robinson pointed out.
"Schools and businesses will have to govern by these laws, which shows people that their government is okay with removing fact-based conversations from the classroom. It's one thing when the government plays a role in censorship.
There are plans for more CRT educational talks.
"We want to organize them in colleges and in the community. We plan to do one at Stetson University next,' Daisy Grimes added.