City and CreateTO announce development partners for two ongoing housing sites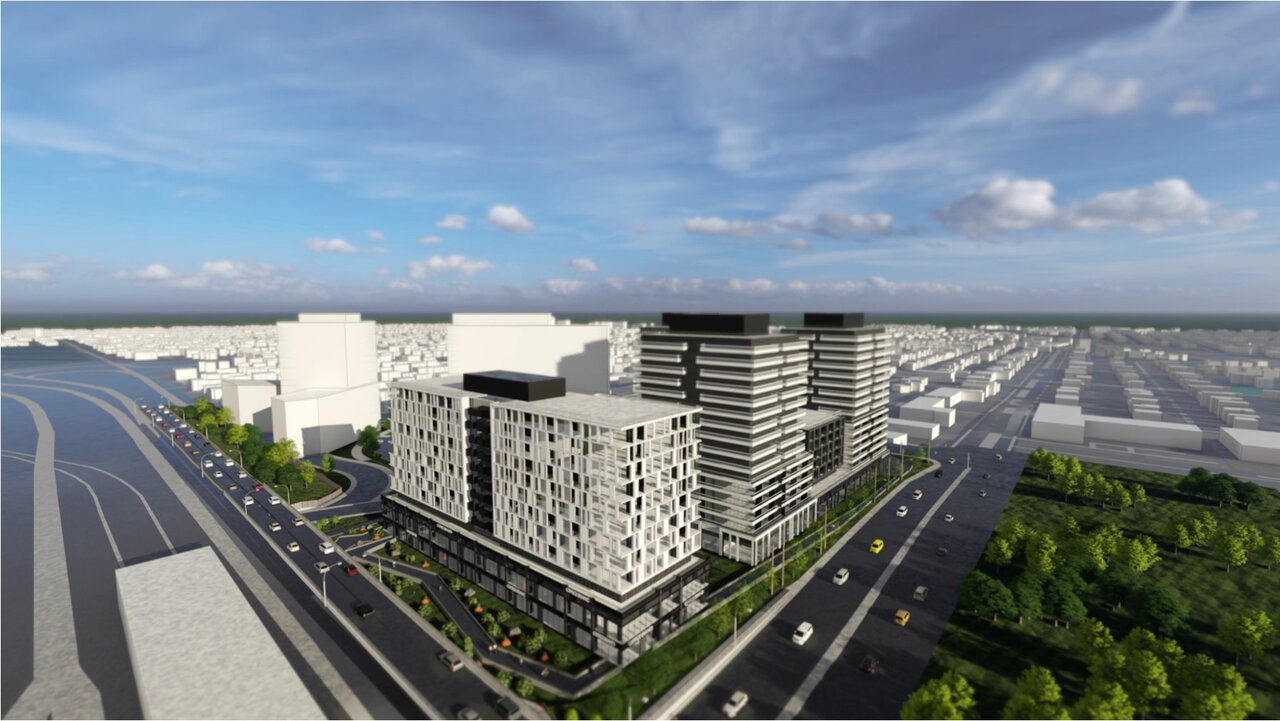 The City of Toronto continues to facilitate construction of new affordable housing as development partners for two Phase One Housing Now sites near subway stations have been announced. Development at 50 Wilson Heights Boulevard has been awarded to Tridel Builders and Greenwin, and development at 705 Warden Avenue has been awarded to Greenwin and a subsidiary KingSett Capital. Between the two sites, the couples of developers will build more than 2,000 new housing units, including more than 1,600 rental units. Of these, nearly 800 will be affordable rentals.
The eight-acre site at 50 Wilson Heights Boulevard is located on the northwest corner of Wilson Avenue and Wilson Heights Boulevard in North York, and adjacent to the Wilson subway station. The development designed by Montgomery Sisam Architects is expected to include a total of 1,484 residential units which will include 520 market rental units, 520 affordable rental units and 444 market condominiums.
50, boulevard Wilson Heights, image taken from the bid to the City
The development will also include a new park, commercial and retail spaces, a daycare center, new public streets and a community space for nonprofits. The landscape architecture is supervised by NAK Design Strategies.
At 705 Warden Avenue, the proposed development of the seven-acre site at the northeast corner of Warden Avenue and St Clair Avenue East in Scarborough was designed by superkül. Across from Warden metro station, it will include approximately 600 units, including 275 affordable rental units and 325 market rental units.
705, avenue Warden, image of the submission to the City
The development will also include the expansion of Warden Hilltop Park, the re-naturalization of lands adjacent to Taylor Massey Creek. Similar to the layout of 50 Wilson Heights, it will also include new public streets, additional retail space and a new daycare center.
Both development sites currently house surface parking for TTC passengers, and both stations offer not only metro service but also multiple bus lines, making them convenient locations for transportation across multiple directions.
Construction at 50 Wilson Heights Boulevard is scheduled to begin in the second quarter of 2022, while construction at 705 Warden Avenue is scheduled to begin in the fourth quarter of 2022..
Additional information and more images can be found in our database file for projects, linked below. Want to get involved in the discussion? Check out the discussion threads associated with the forum or leave a comment below.
* * *
UrbanToronto offers a new way to track projects on a daily basis throughout the planning process. Sign up for a free trial of our New Development Insider here.
| | |
| --- | --- |
| Related companies: | CONTREPOINT ENGINEERING, NAK Design Strategies |