Career in Anthropology Workshop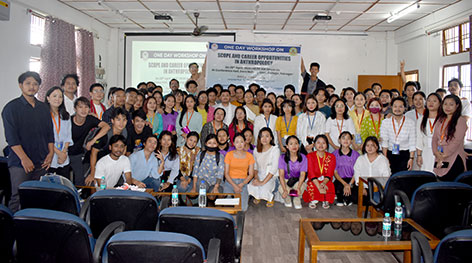 ITANAGAR, April 28: A workshop titled "Career Scope and Opportunities in Anthropology" was jointly organized by the Anthropology Department of Dera Natung Government College (DNGC) and the Arunachal Anthropological Forum (AAF) here on April 28.
On the occasion, the DNGC's Department of Anthropology signed a memorandum of understanding with the AAF "for the purpose of academic and research interaction for the next three years," the college informed in a statement. .
Dr. MQ Khan, Director of DNGC, and Dr. Ratna Tayeng, Head of Anthropology Department, along with AAF President Jimmy Sonam and General Secretary Lopen Paduk signed the MoU.
"The two institutions will explore opportunities for collaborative activities in academic and research activities and develop collaborative research projects for submission to various funding agencies," the statement said.
Dr. Tayeng spoke about the importance of anthropology in the state and said that "we need to bring anthropological knowledge to society; only then will our anthropology become popular.
Dr Khan referred to Verrier Elwin and Christop Von Furer Haimendorf, and their tremendous contributions to tribal communities all over India, especially Arunachal Pradesh.
Paduk lectured on research methods, while Taba Menia spoke about quantitative and qualitative research methods, saying they are "the most basic framework for every student of anthropology."
Nang Pinni Mein presented an overview of the different areas and departments in the public and private sectors where anthropology students and scholars can be engaged.
No less than 120 students participated in the workshop.