A community forum will be held at the JCC on the local impact of substance abuse | Education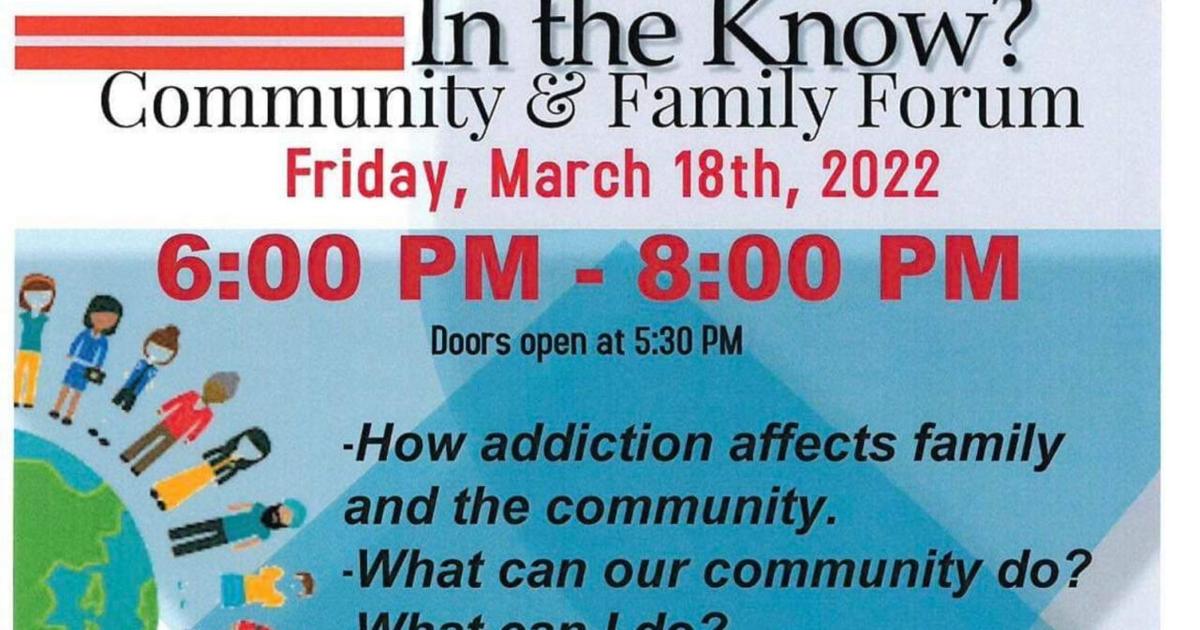 WATERTOWN — In an effort to combat addiction and its impacts, a forum will take place next week to raise awareness and allow those affected by addiction to share their stories.
The idea for the "In the Know" community and family forum came to Amanda L. Serrano, program associate at ACR Health, last year when she was considering how the community has periodic impact panels about drinking and driving, but not the attention-grabbing ones. to the county's drug use crisis.
"It's like Jefferson County's dirty little secret," she said. "I don't know what it is, it's just that we really don't talk about it."
Seeking to address this problem, Ms. Serrano has worked with other local agencies like Anchor Recovery Center to provide people with the opportunity to share their stories. The forum will have a moderator and discussion topics such as how addiction affects families, what the community can do, what individuals can do, and what resources are available.
The event will take place from 6-8 p.m. on March 18 at the Sturtz Theater at Jefferson Community College, 1220 Coffeen St. Doors open at 5:30 p.m.
Ms Serrano said there will be six to eight people on the panel, including a member of local law enforcement, a business owner who has overcome addiction, family members who have lost loved ones because of addiction and a mother whose son is in active addiction.
"It will just be an opportunity to showcase education and awareness, to share their stories with other people so we can let them know that there are resources in the community," she said. "We have a woman who is a mental health specialist, so we have someone there to be able to provide support as well."
The aim is to hold the forum quarterly on different topics, and Ms. Serrano hopes this will bring deeper understanding and awareness of addiction so that conversations about substance use can be more compassionate. .
As an active drug addict for 15 years who has lost loved ones to the disease, Ms Serrano said things were only getting worse. Clean for nearly 10 years and now working in the field of harm reduction, she said the world of drugs is now a "whole different game".
"It's much more dangerous because the drugs are man-made and can just be shipped here; you can have anything you want sent to your doorstep, literally hand-delivered," she said. "I just hope for more compassion. You'd be surprised how many people I give Narcan to and they'll be like, 'Oh, no, I'm not hanging out with anyone who does that.' And it's like, how many times have you been in the store and seen a person who was under the influence, and you probably just shifted your purse to your other shoulder and looked away.
By listening to people's stories, especially people of diverse economic status, she hopes forum participants will see that they are not alone. She noted that many people are afraid to ask for help because they are embarrassed and ashamed.
Another member of the planning committee, Robert E. Bowen, behavioral health and addictions coordinator at the North Country Family Health Center, said the forum was prompted by last year's record increase in deaths from overdose across the country. He said mental health and addiction go hand in hand, and a lot of people are self-medicating because they grew up in an environment where that's what they witnessed.
"I'm working on a program, a Suboxone program, basically, and the drug is great medicine, but the ground work is really individual therapy and trying to figure out where our trauma may be coming from," he said. he declares. "It doesn't have to be significant trauma, but we learn what we see and unfortunately there is still such a stigma against mental health counseling or therapy that people will resort to other means. to cope."
Many of the patients that Mr Bowen's organization sees already know this information – they are living this information, he said – so what the forum organizers want to do is reach out to people who think something like addiction can't happen to them or their family.
He said the forum's preventative elements could help people identify a family member or friend in need of help. The forum will be filmed and shared on social networks.
"I just hope people come," Ms. Serrano said. "I think there are great minds on this planning and there has been a lot of personal dedication. It's something that everyone does in their spare time, and I think it's great because we give back and not just through our work or our jobs, but we do it personally because we want to. Nobody had to do that, it was just a thought, and for people to believe it, it's just awesome. I hope this is really beneficial for our community.